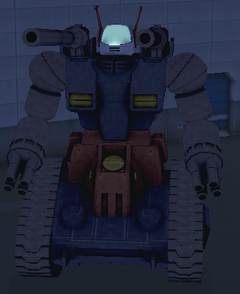 | | |
| --- | --- |
| Model Name: | RX-75 |
| Unit Name: | Guntank |
| Radar: | 1600m |
| Stock Engine: | MS/MA HB engine typeC lv. 2 |
| Carry Weight: | 92000 kg |
| Store Price: | 500,000 EF$ |
| Store Sell: | over 200,000 EF$ (edit later) |
| Skills Required | 4.0 MS Skill |
| Weapon Slots: | 2xManipulator 1xShoulder |
Can only be crafted / purchased on ground
Unit Information
Edit
Ground Use: Yes
Space Use: No
MS Construction skill: 60.0
Material: 60 x Luna Titanium Alloy
Engine: HB
Weapon Available
Edit
Manipulators:
Gun Launcher
MS Rocket Launcher
Shoulder:
+60% attack to MS Cannon
Recommend Crafted Builds
Edit
Very good MS for maxed out Shell Cart.Skill pilots. You can provide very good fire support in warfare with them. A Guntank upgraded to 800 (710 or 701 for no-U part upgrades), plus it's 60% bonus damage to MS Cannon and good skilled pilot is a good MS in either warfare or 1 vs 1 combat (with rapid-firing Gun Launcher). Or you can upgrade it to 008 (107/017) (max def) for the Tanker Role. With good armor, Guntank can withstand lots of firepower while friendly units take out the enemy. The 080 (170/071) (max accuracy) upgrades are good too. After all, it depends on the pilot's role on the battlefield. - by Victor Allen, EFF Pilot
Another recommendation: It's highly advised that you use EX MS Cannon in warfare, because they have better range than the normal MS Cannon, giving you more better advantage in warfare.
Alternate Colors
Edit