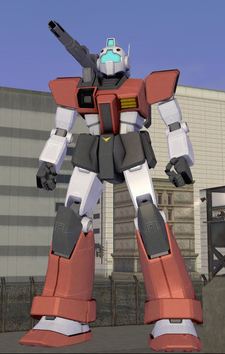 | | |
| --- | --- |
| Model Name: | RGC-80 |
| Unit Name: | GM Cannon |
| Radar: | 1600m |
| Stock Engine: | MS/MA TR engine typeC lv.1 |
| Carry Weight: | 95,000 kg |
| Stock Price: | 600,000 EF$ |
| Store Sell: | 201,000 EF$ |
| Skills Required: | Mobile Suit: 0.0 |
| Weapon Slots: | Manipulator x2, Head x1, Shoulder x1 |

Information;
The RGC-80 GM Cannon or GM Cannon for short, is the Heavy Artiliery version of the standard RGM-79 GM. It has better armor and has an extra Shoulder slot for the MS cannon weapon. Most players use the GM cannon for its better Armor and the ability to equip a heavy weapon. Though expensive, the money you spend on this unit is totally woth it.
Alternate Colors
Edit
Ad blocker interference detected!
Wikia is a free-to-use site that makes money from advertising. We have a modified experience for viewers using ad blockers

Wikia is not accessible if you've made further modifications. Remove the custom ad blocker rule(s) and the page will load as expected.