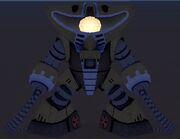 | | |
| --- | --- |
| Model Number: | MSM-04N |
| Unit Name: | Agguguy |
| Radar: | 2000m |
| Stock engine: | MS HJ Engine type C lv. 1 |
| Carry weight: | 92000 kg |
| Stock price: | 850,000 |
| Store Sell: | 676,000 |
| Skill required: | 0.0 |
| Weapon Slots: | 2 manipulator, 1 head |
In preparation for its planned assault on the Earth Federation Forces' underground South American Jaburo military headquarters during the One Year War, the Zeon military forces stationed at California Base developed a series of specialized mobile suits to aid in the assault. One of these was the MSM-04N Agguguy, an amphibious unit designed for close combat fighting. Loosely based on the MSM-04 Acguy design, the Agguguy was designed to be heavily armored yet fast, attacking with a pair of spinning heat rods on each arm to grapple, slice and shock enemies. These heat rod "hands" could also be changed out for a claw-type hand similar to that on the MSM-07 Z'Gok. However, the Agguguys built at California Base were never deployed, as Zeon's Commander Char Aznable discovered the secret spacedock entrance to Jaburo long before the scheduled assault, and launched a hasty attack with what limited resources he could receive from California Base in time.